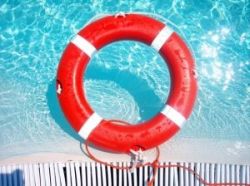 May was National Pool Safety month, but here at Performance Pool and Spa we believe it is important to think about water safety all season long. Pools are awesome! What could be better than a dip in the pool and fun in the sun? But a child could easily slip and fall, or even worse, drown. To prevent a scary situation, here are a few tips to keep children safe around the pool this Summer.
· Never leave children alone by the pool and always be in constant watch. Today it is easy to get caught up in what our friend posted in social media, but small children rarely make a splash when they fall in and can quietly drown as fast as 30 seconds.
· If a child is missing look in the pool first; seconds count.
· Have a phone close by in case you need to call for help.
· Make sure kids walk slowly in the pool area, never run. Running increases the dangers of slipping and falling resulting in an injury.
· Don't leave toys in the pool area or use chemical dispensers that look like toys.
· Don't allow pushing and make sure kids are jumping in one at a time, and not on one another.
· Make sure kids are swimming in a depth that is safe for them. If they are just learning to swim, have them stay in the shallow end.
· Use of a life jacket is important if you're learning to swim or not a strong swimmer.
· Use a life jacket instead of floaties. Floaties can lose air making it harder to save a life.
· Don't chew food or gum while swimming; you could choke.
· Never dive in water or an above ground pool less than 8ft deep; Minnesota law prohibits diving any less deep
· Get everyone away from the water if you hear a storm coming. Lightning and water make for a very dangerous combination.
· Know how to perform CPR on children and adults.
· Keep the pool area locked when not in use.
. Use an auto cover to make it easy to cover the pool when not in use to prevent from anyone falling in.
· Use an automatic pool cover to make it easy to cover the pool when not in use to prevent from anyone falling in.
Owning a pool doesn't have to be scary. If you follow these tips, and use your own common sense, your family can have a safe and fun filled time by the pool!