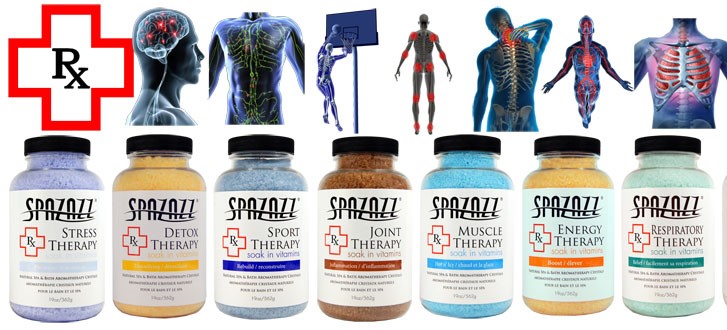 Do you have sore, achy muscles and are looking for a boost from your hot tub soak? Well let me introduce you to a product line that Performance Pool and Spa carries; Spazazz. Spazazz created their own unique blend of high quality, long lasting aromatherapy products that not only smell good, but feel good too. Spazazz products are specially formulated for both bath and spa use, and are completely oil-free. The all natural blends are designed so they will not affect a hot tub's pH balance or leave any residue behind.
Spazazz offers so many great products, but we wanted to focus on their Rx Therapy crystal line.The Rx Therapy crystal line is designed specifically to soak away aches and pains while you are relaxed in a vitamin soak. The different kinds include: Stress Therapy, Detox Therapy, Sport Therapy, Joint Therapy, Muscle Therapy, Energy Therapy, Respiratory Therapy.
Stress Therapy: A blend of all natural aromatherapy to help you relax and clear your mind & body as you soak the stress away.
Detox Therapy: Specially designed to purify your body and eliminate built-up toxins while you sooth away those aches and pains.
Sport Therapy: This rebuilding therapy blend will help you relax and rejuvenate after an intense workout or physical training exercise.
Joint Therapy: A therapeutic blend of all natural botanicals will help reduce inflammation and sooth painful and stiff joints, while boosting better circulation.
Muscle Therapy: The perfect blend of aromatherapy after a long day that lead to sore and achy muscles. It alleviates sore muscles with Spazazz's own natural blend of Hot N' Icy providing long lasting relief.
Energy Therapy: A blend of therapy crystals perfect for reinvigorating after a long day or even for getting the day started. Either way, it works great when you need a boost.
Respiratory Therapy: If you are feeling congested or having breathing problems, submerge yourself and relax in a blend of aromatherapy. This purifying upper respiratory blend will help you breathe deeply and clear your body.
Regardless of your Rx needs, Spazazz can provide you with therapeutic benefits to help you get back to your true self. Ready to give it a try? Stop into any of our locations to find the Spazazz blend that's right for your needs.