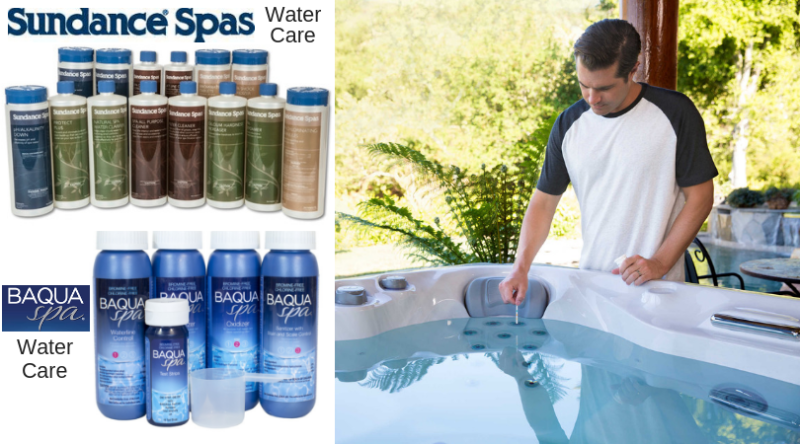 Cleaning your hot tub is a critical part of effective hot tub maintenance as both indoor and outdoor hot tubs are prone to developing scum and bacteria. Here are some tips to keeping your hot tub clean and free of germs. We recommend using products from Sundance Spas or BAQUA Spa.
Once per week:
*Spa chlorine granules when used with 1oz once per week kill bacteria and keep spa water crystal clear.
*Use a waterline control or surface cleaner to prevent any scum rings on your waterline on your hot tub. Upon start up use 3 oz and then 2oz weekly for regular prevention.
*Use an oxidizer weekly to kill bacteria and keep water clean. Use 6oz upon startup and 3 oz weekly.
*Utilize test trips to ensure proper levels of chemicals and add as needed to keep a good balance
Once every other week:
*Clean the cover, especially the the water side, about once every other week to kill any germs and bacteria.
As needed:
*Spa defoamer is great for diminishing foam build up on top of the water.
*A spa clarifier will clear up cloudy, green, or brown spa water, and will do so quickly.
*To clean the inside of your shell, drain your hot tub and use an all purpose cleaner. Make sure to rinse the shell really well before filling it back up with water.
*Don't forget your filters! They're on the job whenever your hot tub's running, and your hot tub filters need a good cleaning to work properly. Spray your spa filter off as much as possible; depending on usage. Chemically clean your filter with one of our filter cleaners to give a deeper clean every time you drain and refill your hot tub to extend their life and loosen any stubborn particles. Don't forget to rinse them after. When your filters get to the point where even a chemical soak doesn't completely clean them, it's time to replace them .
*Metal control is a binding agent that helps bind metals together so your filter can catch them a lot easier. Use upon start up and rinse your filter 24 hours after adding.
*Always use a measuring cup when adding chemicals. Make sure your jets are running when adding chemicals to the water. Rinse out your measuring cup before filling up with another chemical
A weekly clean is essential hot tub care. But plan to drain your spa completely for a thorough cleaning every three to four months, and more often if you're using it often, or having a lot of guests in it.